Cozy up to the fire with this modern rustic Catalpa and Mahogany bench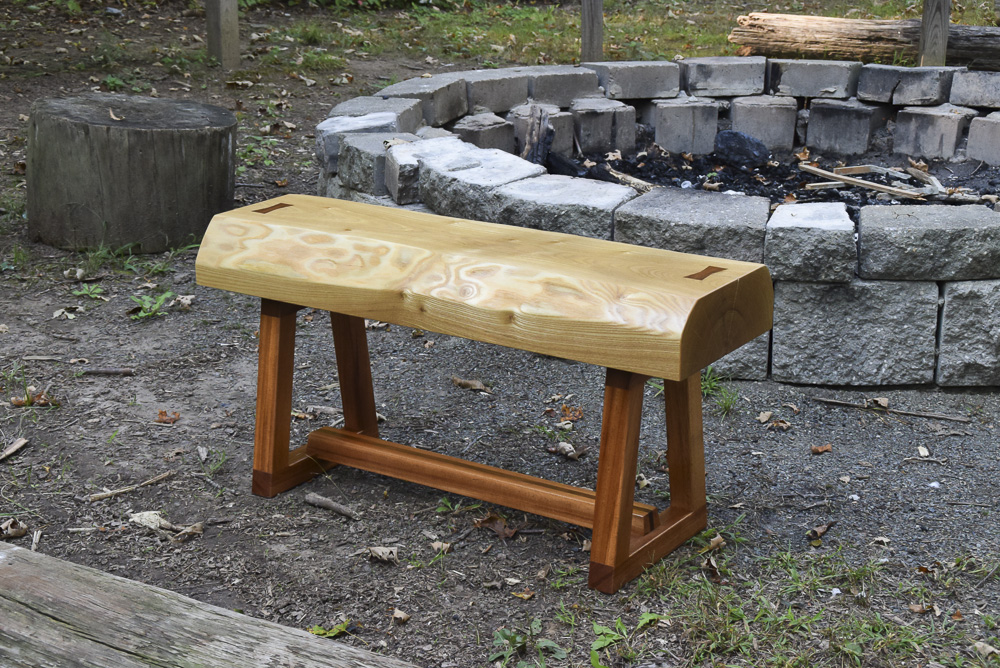 A mixture of modern and live edge rustic combines for a stunning and functional piece. Starting with a live edge slab of Catalpa, I shaped both long edges of this 4 3/8″ thick slab to a more comfortable profile. Heavy cracks in the piece got me to insert some handmade 3″ ipe bowties to keep the wood from further splitting. The African Mahogany base is assembled using Festool domino tenons (delivers incredible strength to the joints) into a trapezoid shape – a detail I matched in the crossbar profile, which itself is mortised into the legs. For continuity, I added a strip of ipe to the crossbar to further tie the top and base together.
Stainless steel bolts secure the top to the base into threads I cut using Wood Whisperer thread taps – providing a very strong hold and allowing for disassembly. Several coats of oil-based, exterior Helmsman spar urethane protects the piece from the elements, with a 1/8″+ layer of epoxy poured onto the bottom of the feet for extra ground contact protection.
While this catalpa bench has been constructed using materials, techniques, and finishes for outdoor use, you could certainly still use it indoors as a sitting bench for the hallway or bedroom or even as a coffee table (its height is very close proximity to that of modern couch seat cushions).
Overall size: 36″w x 11 3/4″ d x 18 1/4″ h
Weighs 33.5 lbs
$475
inquire for purchase (shipping and taxes extra)