Your home decor needs some chaos, this scrap wood end grain end table will do just that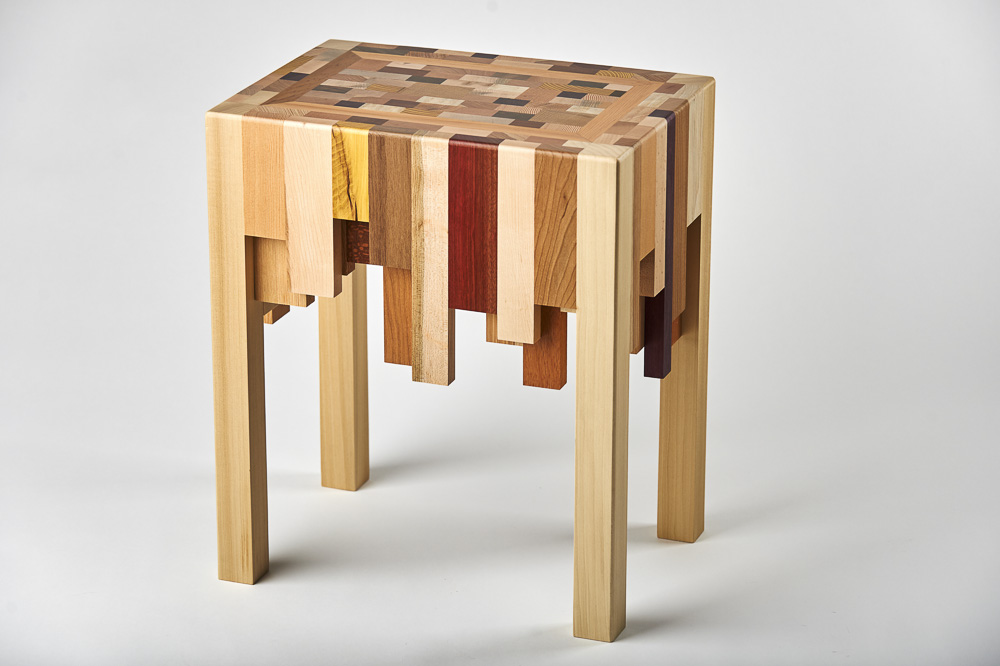 A direct contradiction to any home decor, this table is chaotic and obnoxious – yet its construction was resourceful, having repurposed leftover scrap material into a charming piece of furniture. The multiple colors and unique grains of the woods used in this table add layers of dimension, but I also wanted some texture as well so the entire piece was left rough sanded (80 grit from my drum sander – all in a vertical orientation with the grain, except for the end grain top which is smooth sanded). Only the top perimeter and outside edge of the legs received a 3/8″ radius round over. 1 5/8″ poplar legs support what looks like a massive block, but is actually hollow underneath to alleviate weight and reduce wood waste.
Five coats of water-based polycrylic, left unsanded between coats as not to ruin the texture, cover the piece, with the top receiving 10 coats and lots of sanding between coats.
17 species of domestic and exotic hardwoods were used in the construction of this unique end grain end table, they include black locust, hard maple, red oak, douglas fir, cherry, bloodwood, walnut, poplar, purpleheart, birdseye maple, sapele, lacewood, birch, western red cedar, cypress, hickory, and peruvian walnut.
Overall size: 17″ w x 12″ d x 19 3/4″ h
$800
inquire for purchase (shipping and taxes extra)