Yew Bench: A Marriage of Rustic and Modern Styles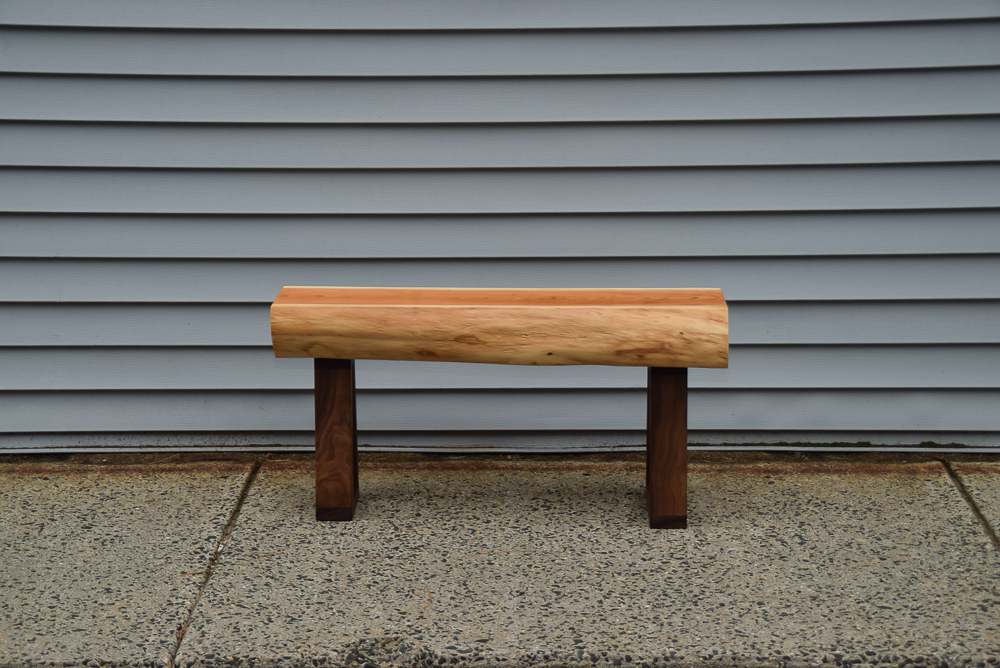 This amazing contrast of colors will be the focal point of any entryway or home decor. The deep orangey-brown color of this live edge yew bench heartwood that is blanketed by the lighter band of sapwood is eye-catching enough yet is further enhanced by the rich color and character of the walnut legs supporting it.
This live edge yew log is a substantial 4 5/8″ thick with a sapwood band 1/2 – 7/8″ thick. I hand de-barked the yew log but kept a majority of its natural texture and marbled coloring intact. It is completely smooth to the touch.
The walnut base is constructed using beefy 3″ wide x 1 1/8″ thick stock. Individual legs are assembled using domino joinery in a 7-degree angle trapezoidal configuration. Outside vertical edges of the legs received a 3/8″ round-over while all other edges were hand sanded to ease the edges. I drilled threaded holes into the yew top, using bolts to secure the two together.
Any cracks in the yew log received a tinted epoxy fill. The entire piece is finished with Rubio Monocoat pure oil – a durable, low-sheen oil/wax finish.
I'm not sure of the exact species of Yew – it could be Pacific yew or European yew – both have very similar grain, coloring, and overall characteristics.
Overall size: 8 1/2 – 11 1/2″ w x 36″ l x 18″ h
Weighs 38 lbs
$600 $250
inquire for purchase (shipping and taxes extra)