Split-top osage orange side table delivers a natural feel in a modern design.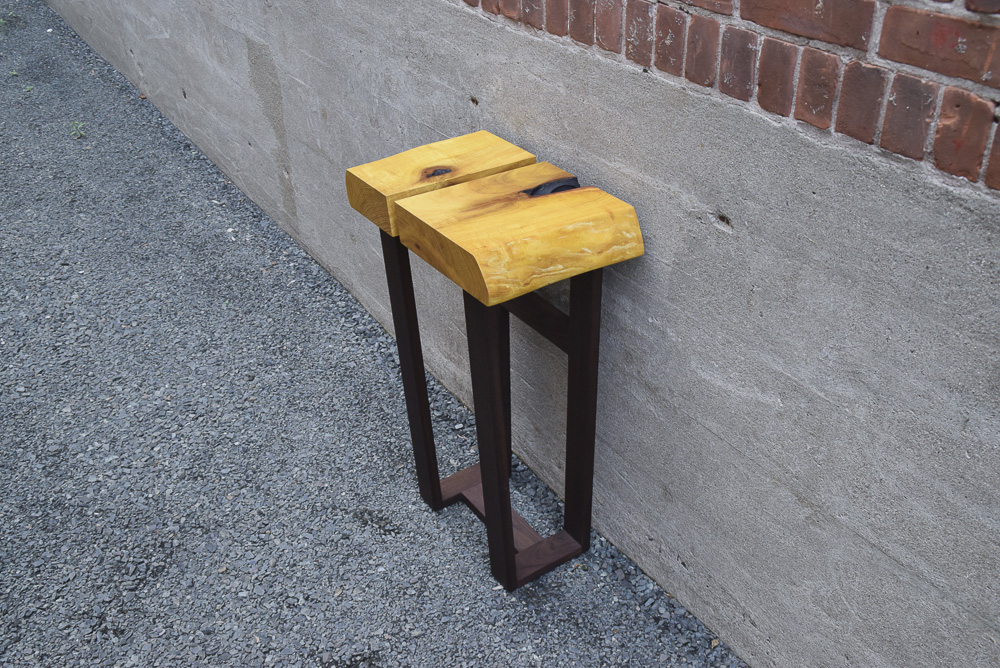 The osage orange side tabletop was originally a single piece that had cracked in half, so I cleaned up those edges, cut them at an angle and along the line of the crack. Mounted to the base they maintain a 1″ gap between halves. The bark and sapwood were removed while retaining the live edge shape. Knotholes and inclusions add to the character of this natural piece.
I built a Peruvian walnut base in a minimal open design using beefy stock to complement the two thick pieces of osage orange. A slight tapering of the base helps lighten this look and the rounding of the top and bottom corners adds a visual detail to echo the shape of the Osage Orange. The base is assembled using Domino tenon joinery, with Spax powerlag screws attaching the base to the top pieces.
The entire piece is finished in Rubio Monocoat pure oil, displaying a matte finish, with Rubio Monocoat intense black pre-color and black oil being used in the ingrown bark areas for additional contrast.
Overall Size: 18 1/4″ w x 11 1/4″ d x 29 3/4″ h
The top is 2 7/8″ thick with a 1″ gap between the halves. The base uses 2.5″ wide stock at 7/8″ thick.
inquire about building something similar